Add new user ➕👤
Adding members to your community:
To add a new member, either click on the "+" sign next to "Members" or go to settings, click on the "Members" tab, and then click on "ADD MEMBER". You can invite members with a community link, let them register themselves, or preregister them via email."
.
1. Send a join request using the community link.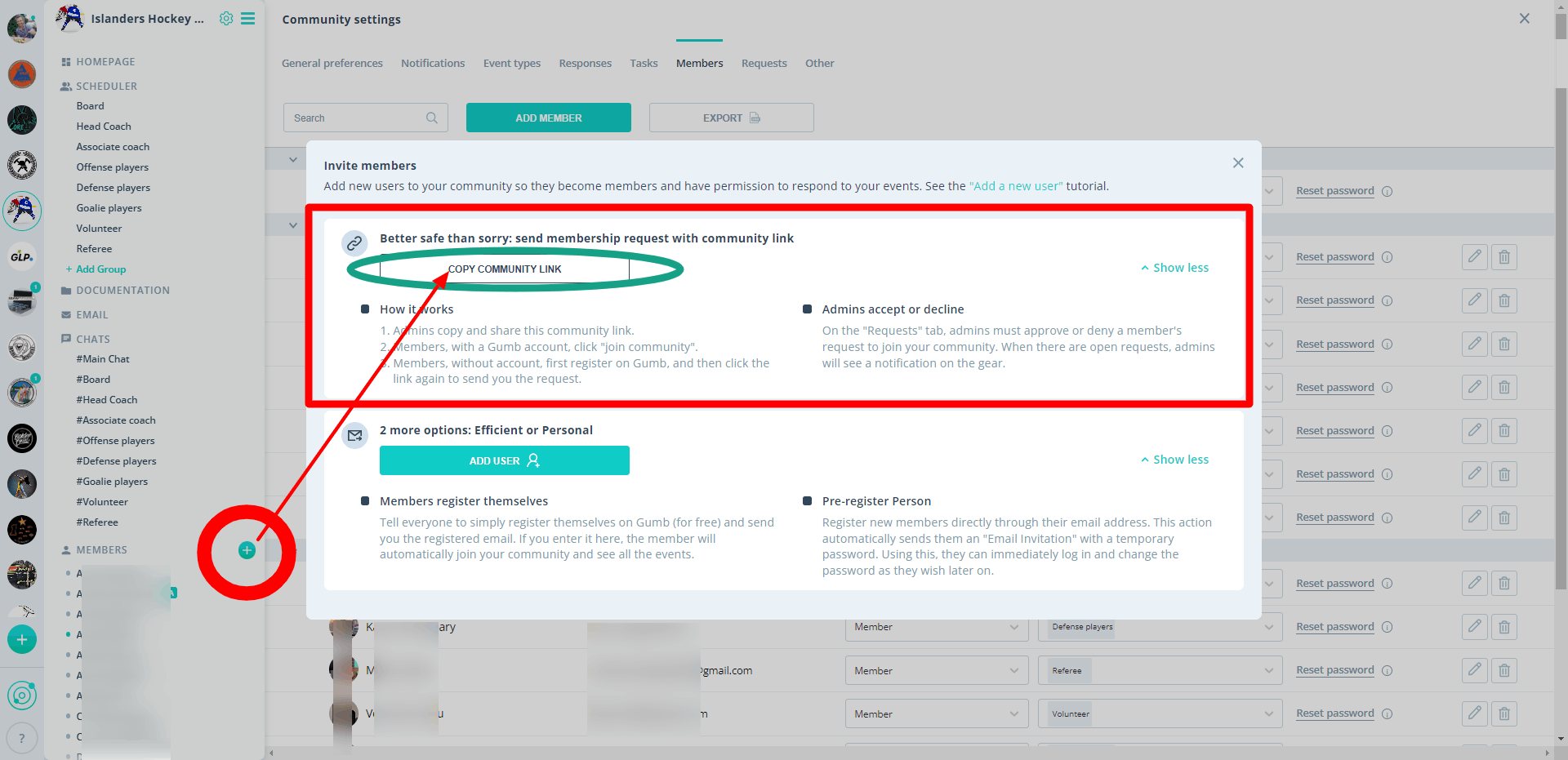 .
How it works:
Admins share the community link: Just copy this link and share it with members.
Members with a Gumb account, click on "Join community".
Members without an account first register on Gumb, and then click the link again to send you the request.
Note: Unregistered members, meaning members without an account, will first land on Gumb's registration page. After logging in, they should click on the community link again to send the join request.
Admins decide:
In the "Requests" tab, admins can accept or decline membership requests. When there's a pending request, a notification will appear on the gear icon.
.
.
.
2. Self-registration by members
With this method, there's minimal work for the admin.
.
How it works:
1. Instruct your members to register on Gumb themselves. To help, there's a guide on the registration process which you can share via 'Create your account 💁🏻'.
2. Once they've successfully registered, members should provide you with the email address they used.
3. Next, you add them to your community using the 'Add User' option.
Note: If the email address is already recognized by Gumb, the member will immediately appear in your admin view and can instantly respond to your events.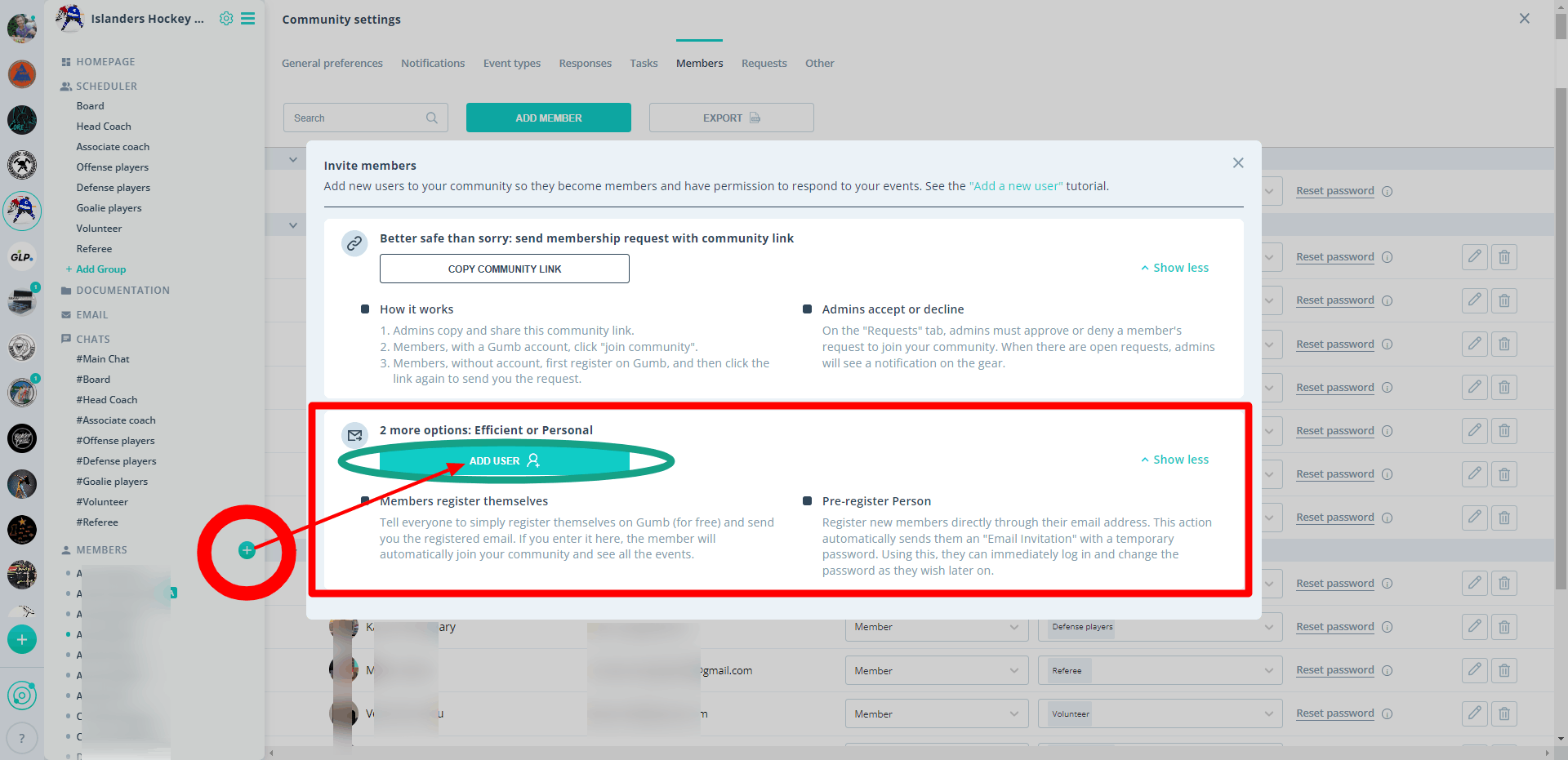 .
.
.
3. Pre-registering individuals:
With Gumb, onboarding new members is efficient and hassle-free. Even if they don't have their own Gumb account yet, you can pre-register them to ensure a smooth start.
.
Step-by-step:
1. Pre-register: Under "ADD USER", enter the new member's email address. If Gumb doesn't recognize it, you can directly input their first name, last name, and assign them to groups and roles (you can also do this later).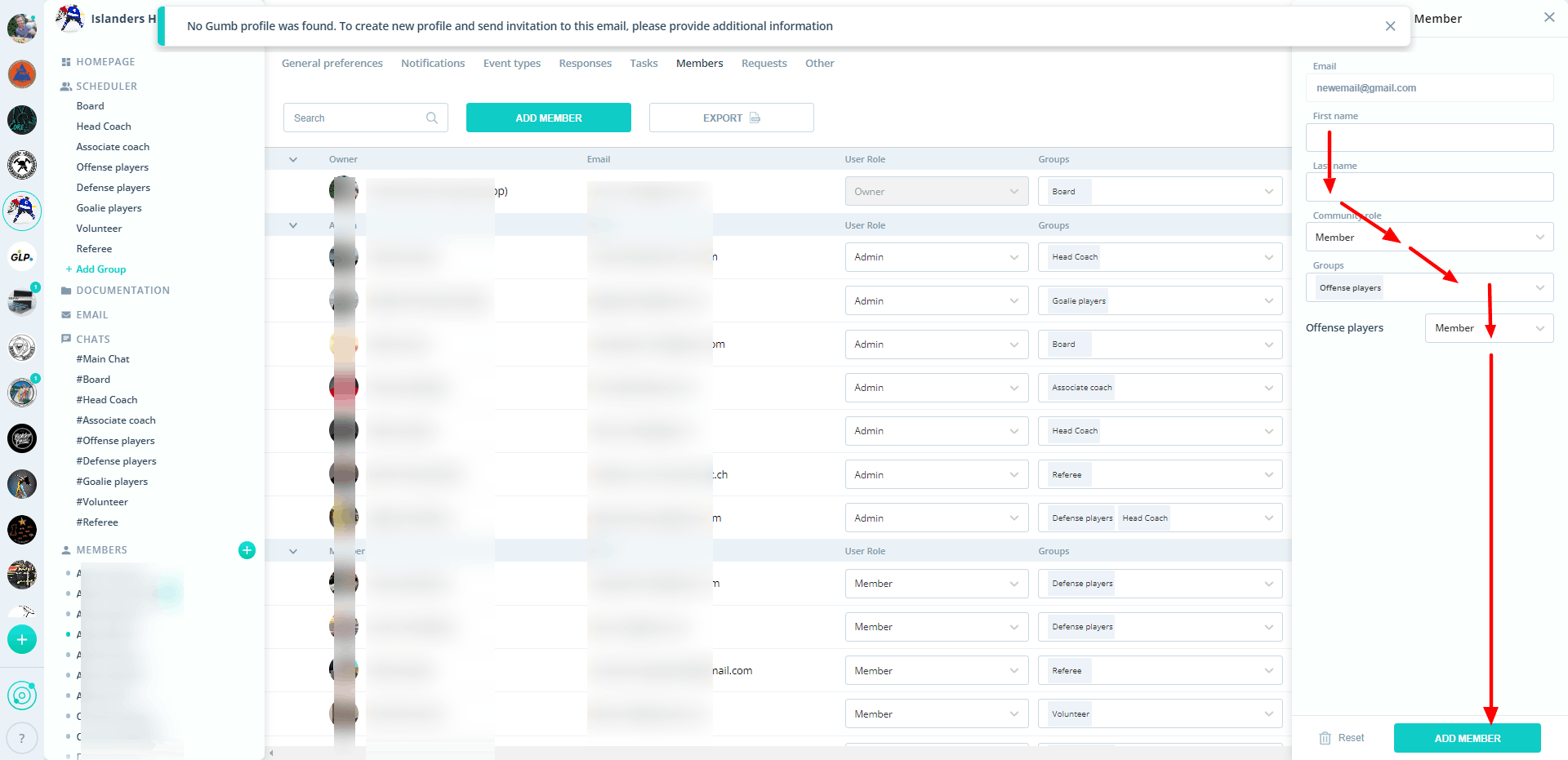 2. Send invitation: Once all the data has been entered and saved, Gumb will send an automatic invitation email with a temporary password to the new member.
3. First login: The member uses the temporary password for their first login on Gumb.
4. Change password: After their first login, members can customize their password.
Tip: If the invitation email doesn't appear in the main inbox, check the spam folder!
.
.
.
Sample Guide for Members on Word
Would you like a Word template? We're happy to provide one that you can customize, and for instance, integrate into your website or send to members. Just email support@gumb.app and provide your registered email address and the name of your community.
As another option, you can find all the necessary information on how members can create an account in the article 'Create your account 💁🏻'.
.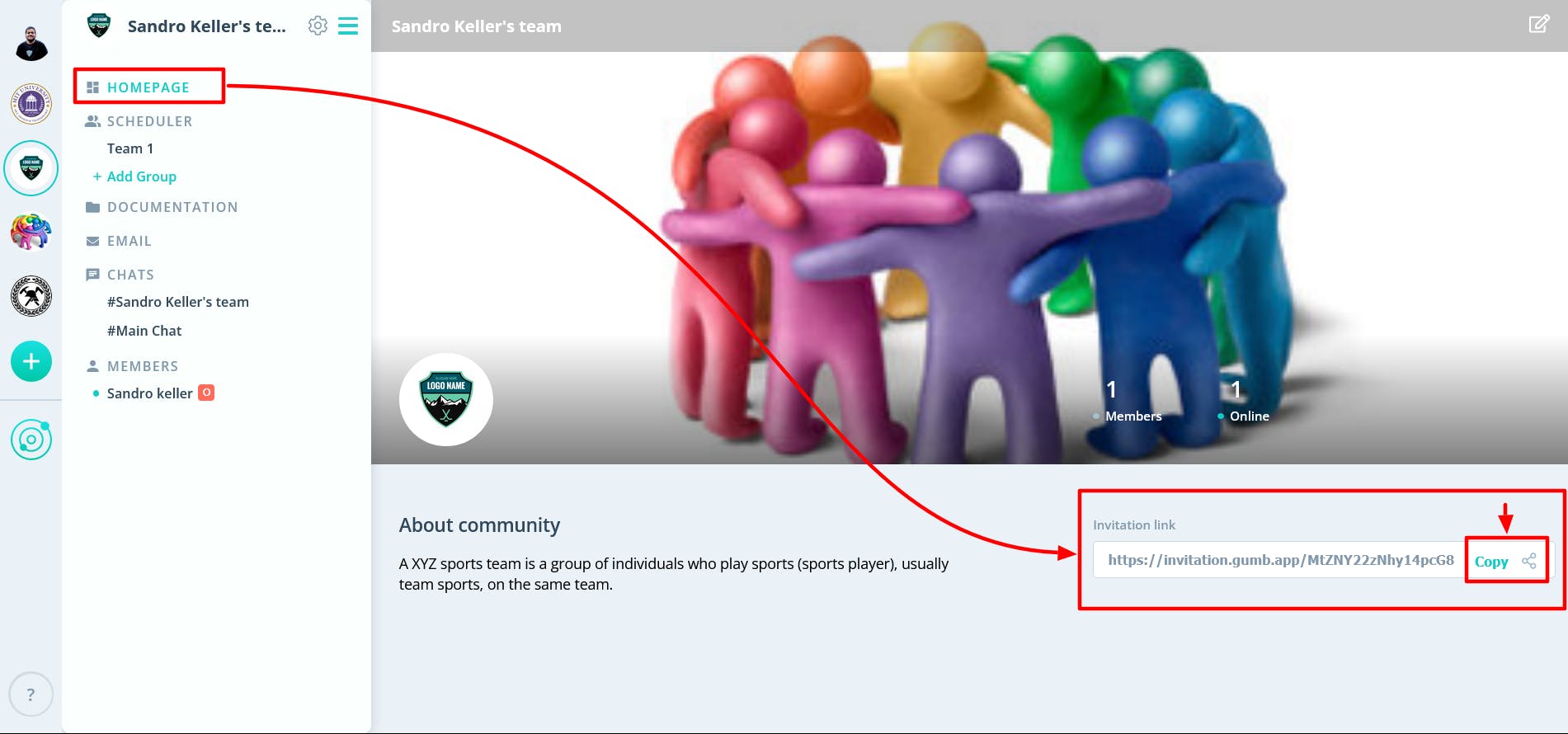 .
.
This is how it looks when members create an account themselves:
When members sign up on their own, they first enter their personal details. Afterward, the system sends a confirmation email to the provided address (please check the spam folder too). The member confirms the email, and the account is activated and verified.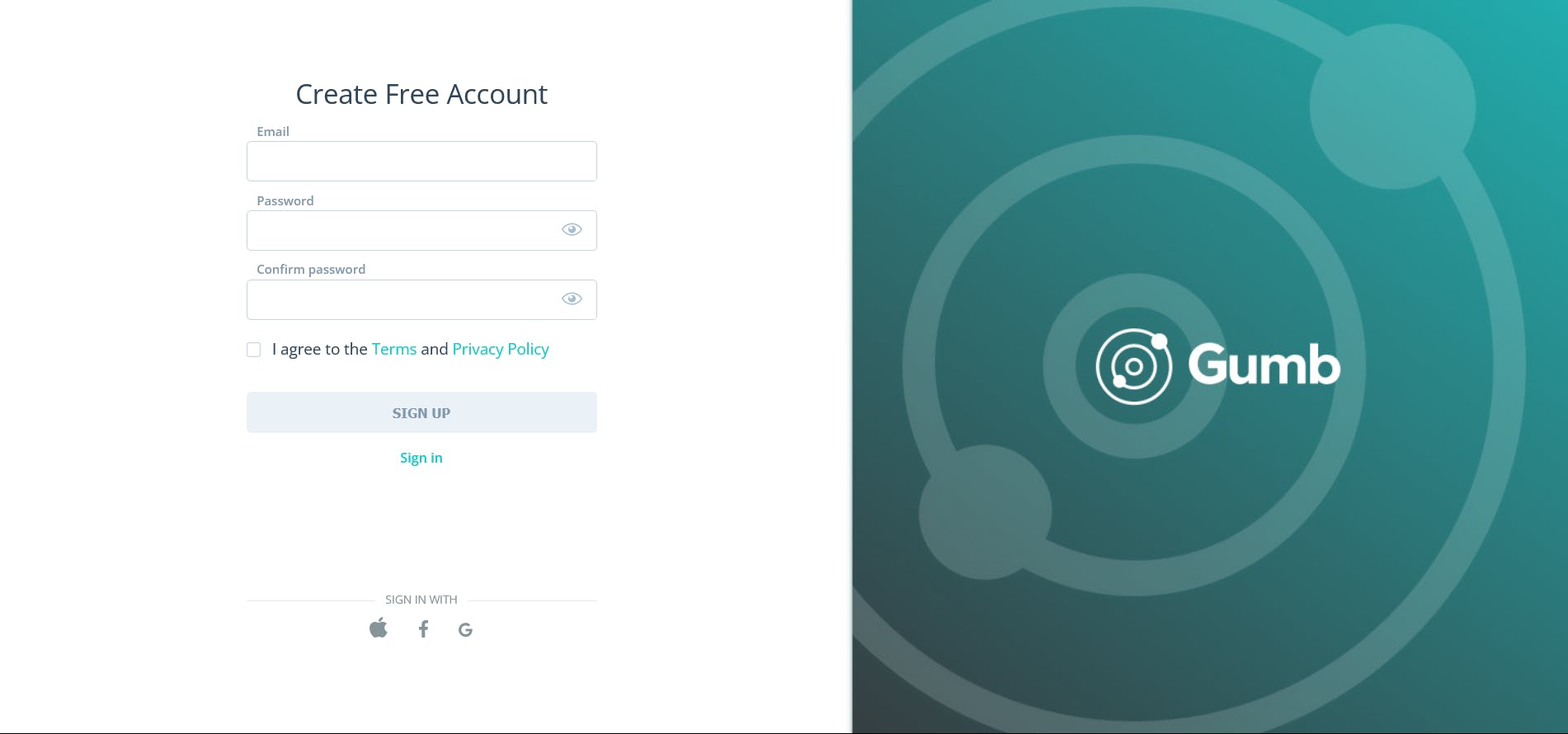 .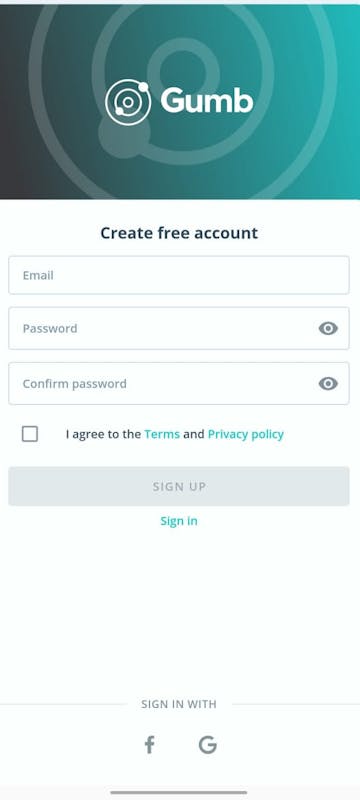 .
.
If a member is having issues or has entered the password incorrectly multiple times, please email support@gumb.app and provide us with the relevant email address. We'll reset the account, allowing for a new registration.
.
Good to know: Members of an active community, paid for by a subscription holder (community owner), can use Gumb for free.
.
Every user has the opportunity to organize their own team or activate their own subscription (see My subscription 💵)."