Google Calendar connection
The Gumb events can also be added to your private Google calendar. The connection only needs to be saved once. Newly created events will then update automatically and appear in the calendar.
.
Important: It depends on the calendar itself how often the events are queried by Gumb. It may take a few minutes until newly created events appear in the calendar. But Gumb has no influence on this.
.
Currently, you can only connect via the WEB app on a PC/Mac-Browser. An update for the smartphones (Android / iOS) will follow in the upcoming weeks.
.
.
Step 1: Connect and important: Set checkmark!
Select account
First, connect to your Google account. To do that, you need to click the "Sign in with Google" box that you see in the "Calendar Connection" section of your account.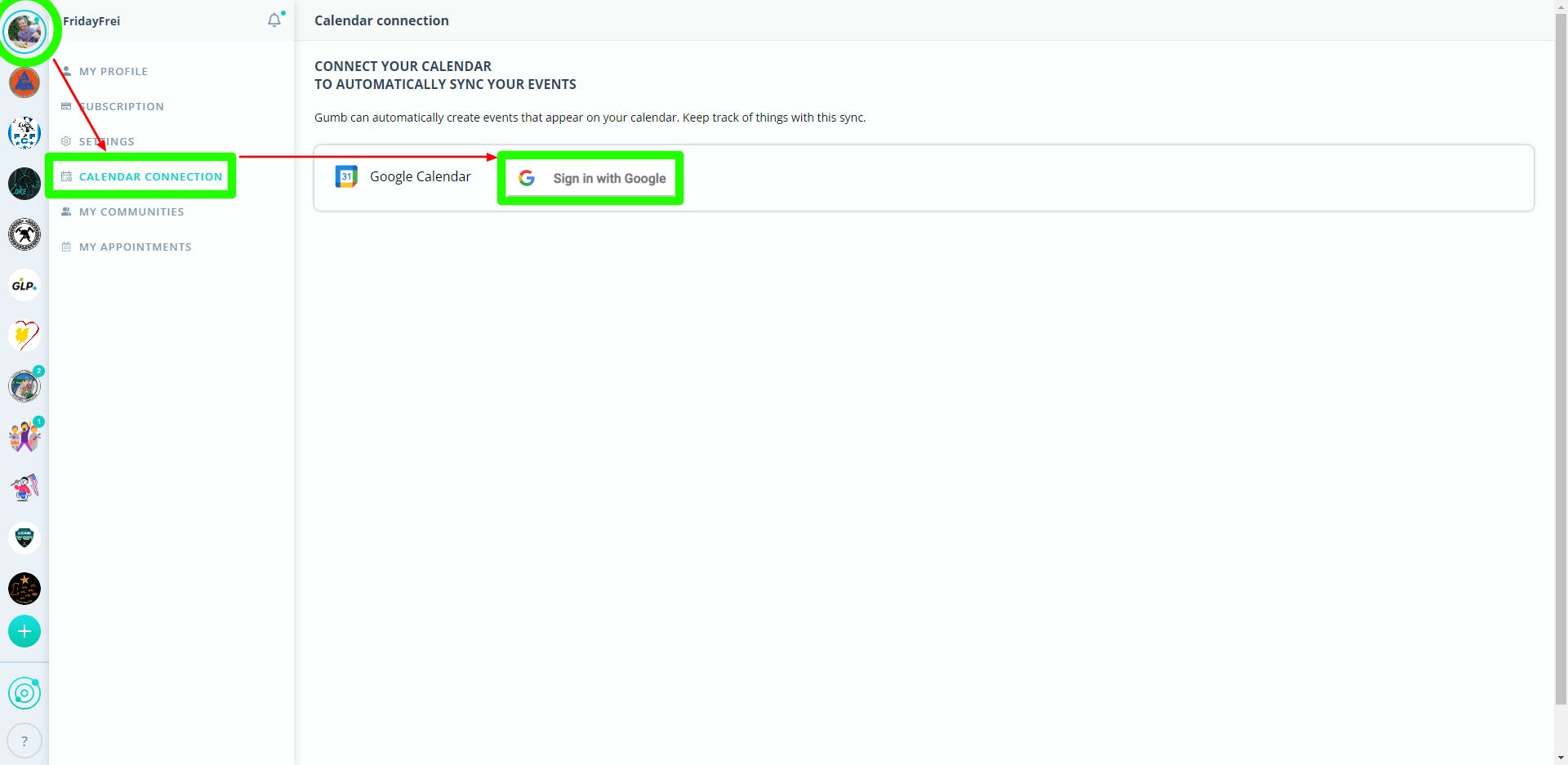 .
.
The checkmark must be set!
You must check the box to connect Gumb after selecting your Google account.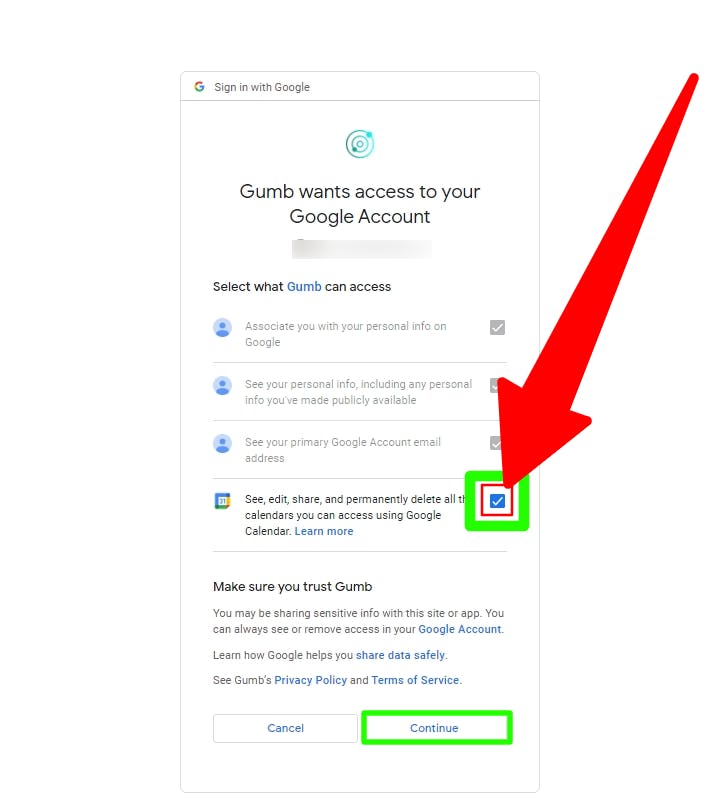 .
Step 2: Select community
Events will only be synchronized for selected communities, where the checkmark is set. The selection can be changed at any time.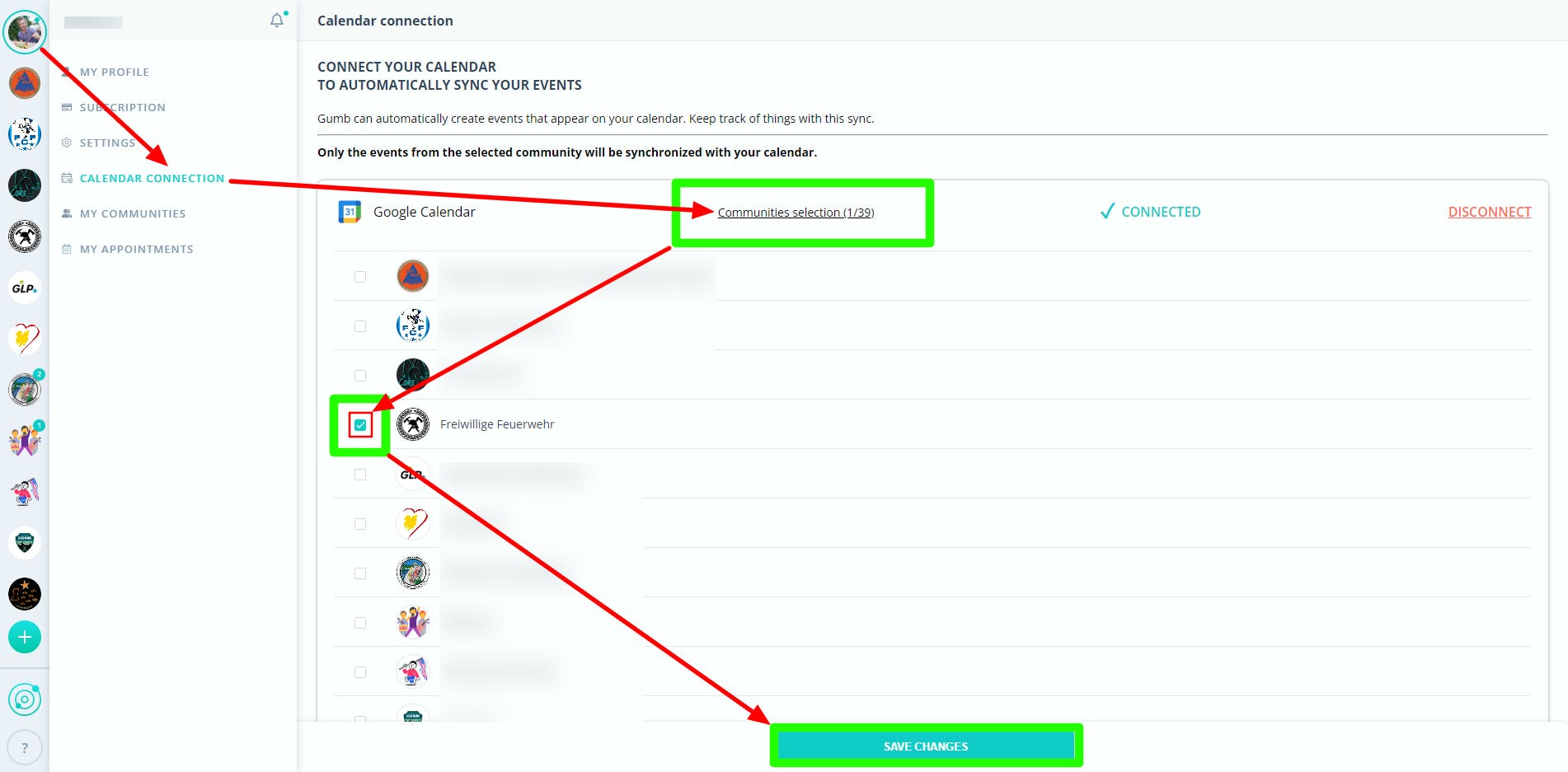 .
.
Step 3: Reload the page after a few minutes
The first synchronization
Gumb and Google Calendar are probably open at the same time. Reload the Google page now. Once you have connected your Google calendar and activated the communities, a "first synchronization" occurs. As a result, it may take a few minutes for all events, e.g., of a whole existing event series, to appear in the calendar.
.
Keeping your calendar organized is essential, so Gumb automatically creates a separate calendar for each community to make it easy to separate the events of different communities.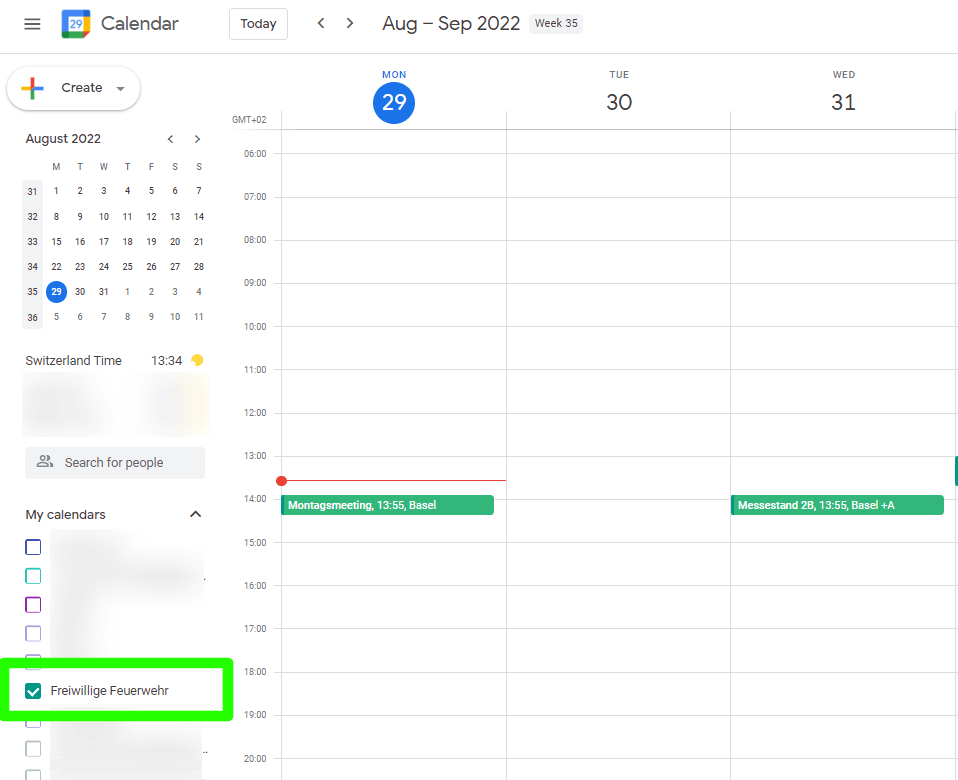 .
.
The synchronization happens automatically.
Subsequently, only every change that is made at Gumb will be synchronized.
This means:
Whenever an administrator (or group leader) creates or changes an event in Gumb-schedulers, the same event with the same information will appear within a few minutes in Google Calendar.
.
.
The synchronization is one-sided
This means that any changes you make yourself directly in your Google Calendar will not be reflected in the Gumb schedule.
.
So, you can change, color or delete the events in your Google Calendar, but this will have no influence on the Gumb events.
However, Gumb adds a link to each event so that you can click on it and be taken directly to the app so that you can quickly add or cancel events on Gumb.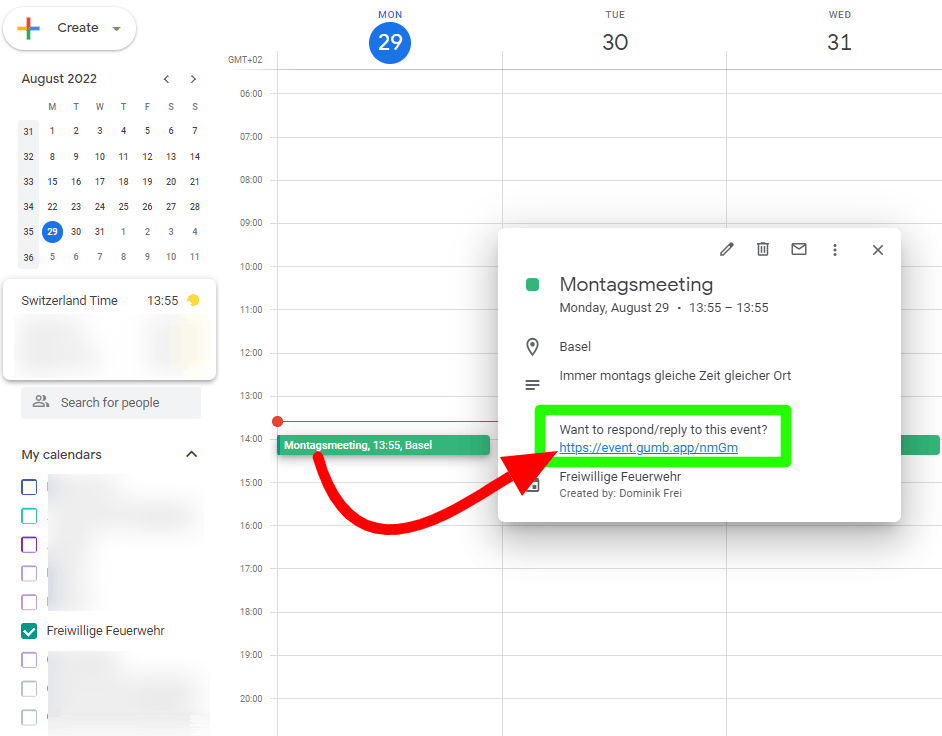 .
.
All future events are synchronized
Every time you connect a calendar, all events from last week will be synchronized, without date limit. 
.
This way, all future events will always be available in both calendars, so you won't miss any detail of your schedule.
.
.
When an admin …
If an admin changes to Gumb events, and you have the Google Calendar page open at the same time, you will need to refresh that page to see the changes. It may take a few minutes for newly created or changed Gumb events to be updated in the calendar as well. However, Gumb has no control over this.
If an admin deletes a member from the community, the synchronization will be stopped automatically. For the affected user, the Gumb community with all events is automatically deleted on Google Calendar.
.
.
More features coming …
We are working on the following additional features. However, the "software development" always takes (a lot of) time:
- Selecting which event response fields are synchronized (e.g., only show where I selected "Yes, I'm in!" in Google Calendar).
- Show my response (status) in Google Calendar (e.g., If you have already selected "Yes, I'm in" on Gumb, this will then also be shown in the event details on Google).
- Outlook / Apple → Other calendar connections are of course also planned → Our roadmap
.
Our support team is always at your side. Please contact us via our contact form or e-mail us: support@gumb.app
.
All essential links at a glance: https://linktr.ee/Gumb